Reporting An Unreliable Tradesman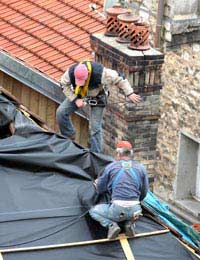 It can be financially and emotional crippling when you realise that your hard-earned cash has been wasted on a rogue tradesman. As the number of 'have-a-go' tradesmen continue to rise in the UK, there are a number of reliable firms popping up that offer advice and help on choosing a reputable tradesman when you need work conducted on your home. If you're unfortunate enough to be one of the people who do end up involved with a rogue trader though, you need to know where to report your grievances in order to ensure nobody else is conned by them.
Talk to the Tradesman First
If things go wrong when you're having work carried out by a tradesman, the first step to try and resolve any issues is to speak to the tradesman. Always give them the chance to put it right and make any complaints known to them initially. Many tradesmen will take this opportunity to try and rectify the situation, as they won't want their reputation being harmed. If you feel that the tradesman isn't listening to your concerns, put them down in writing and give him a deadline. Send the complaint letter to the tradesman's head office, assuming there is one, but remember to always keep a copy of what you sent and when. If you find that there's no resolution through this means, the next step is to report your tradesman.
Citizen's Advice Bureau and Trading Standards
One of the most common places to report an unreliable tradesman is at your local Citizen's Advice Bureau. They will be able to give you advice on your legal status with regards to the work and also whether you may be able to make a claim against your tradesman. They may also be able to offer you some kind of conflict resolution or mediation, so they're definitely worth visiting and can give you advice for free on most occasions. Another possibility is to report your tradesman to Trading Standards. Trading Standards are specifically interested in protecting the rights of consumers against businesses and in ensuring that businesses are within the law and delivering what they promise. You can contact your local branch of Trading Standards and they will give you advice on the next step regarding your unreliable tradesman. They can often provide you with contact details for trade associations or advise on what the best course of action is for you to resolve your dispute with your tradesman. They may even investigate it themselves and keep you updated on the situation.
Reporting to a Trade Association
If your unreliable tradesman is part of a trade association, then you should be covered by their code of conduct. If speaking directly to the tradesman doesn't work, contact their governing body and ask for advice. They will want to uphold the standards of their association so will be keen to investigate anyone they believe to be unreliable. Normally, a trade association will speak to the tradesman on your behalf as well as offer you some kind of arbitration service to try and come to a resolution. They can also get the tradesman back to work if they've left the job unexpectedly. This is one of the reasons that it's important to check your tradesman's credentials before agreeing to any work being carried out - if your tradesman doesn't have a trade association backing him, you're putting yourself in financial danger.
Online Sources and Unreliable Tradesmen
Another option when it comes to reporting unreliable tradesmen is to use the multitude of online resources to warn others about their poor service. Websites such as TradeCheck or associations like TrustMark welcome information about poor tradesmen as they will make sure they spread this knowledge so others can avoid them. A new service from search engine AskAlex has also been introduced where individuals can run an immediate check on businesses to ensure they're reputable. The service is set up in conjunction with Dun & Bradstreet and will cost a mere 7.50GBP to obtain. It will give consumers a star rating for a business, full contact details, any criminal history, profit figures and an overall judgement of the business. This method should be used to avoid rogue tradesman initially, but can also help in your reporting of any unreliable tradesmen. If you do suffer problems with your tradesman, make sure you report them as early as possible - helping other avoid them can at least give you some peace of mind.
You might also like...
Please please do not higher Daniel Thomas Clark who now has a company called Medway Building and Construction. He had another company called Kent Construction and Building which was dissolved in April of this year. He never completed my building work and never handed over all receipts (22 missing lucky i have bank transactions but again all in his wifes name) beware always leaving and not completing.
Percy
- 3-Jul-22 @ 11:35 AM
Please do not engage in this plumber called Lewis Holmes. He lives in Bicester but claims he is originally from manchester. He uses his company vehicle to take on private work which unfortunately his current boss has no idea. He messed up our house, doesn't put in his full address on his invoice. When I wanted to warn people on facebook, he deleted his facebook profile.
lewis
- 12-May-22 @ 3:23 PM
Stuart clelland of Gas Safety Reliance - uses a fake address of 4 Clark street Airdrie (doesn't exist and is a car wash.) He claims to be a boiler installer but takes money and doesn't show up. No registered business. Known fraudster and scammer
Jjac
- 21-Apr-22 @ 10:35 PM
Avoid Bkk carpentry (Bradley &Angela Jodey Blackmore). They are fraudsters & steal money.
@gmail.com
- 19-Apr-22 @ 12:08 PM
Avoid having any dealings with Pinesh Patel who also known as Pinal and runs a business in the name of Patel's Builders. He calls himself a builder and decorator but knows nothing about building and does a shoddy job on decorating.
Yes
- 18-Apr-22 @ 5:52 PM
LT Services Great Workman Ship From Start To Finnish ?? Communication was the only let down but I appreciate times are crazy
Allen
- 13-Nov-21 @ 1:38 PM
Dwt landscapes absolute joke Thanks Dave for nothing
Joy
- 11-Nov-21 @ 10:21 PM
Frank shocking services from start to finish
Jam
- 11-Nov-21 @ 9:48 PM
Not happy with frank did my patio half of its loss
Jokes
- 28-Oct-21 @ 8:27 AM
Unhappy with Tim's plastering ceilings had to be redone absolute joke
Bristol99
- 28-Oct-21 @ 8:25 AM
Had wjk put blinds in shocking already fallen off
Thomas
- 28-Oct-21 @ 8:24 AM
Had sams woodwork 5th time didn't turn up absolutely joke
Ace
- 28-Oct-21 @ 8:23 AM
Unhappy with brads landscapes left job half finished please don't use
Franks
- 28-Oct-21 @ 8:22 AM
Feed up with sams tilling compe let down didn't show up again
Davis
- 28-Oct-21 @ 8:20 AM
AVOID MR JAMIE OLIVER CAMPBELL trading under various names inc Norwell construction, JC Design and build. He's based in Altrincjham / Hale part of Cheshire but trades all over. Poor workmanship, wrecked my home, owed me £20,000. Took him to court and win the order but he made himself bankrupt in the days preceding court hearing. Nasty piece of work, unskilled, lying fraud.
Trin
- 13-Oct-21 @ 12:26 PM
STAY well AWAY from ASHLEIGH CONIAM from Ramsgate. Total fraud. Has left our house in ruins. Every room he has touched we have had to have redone, costing us extra money having to hire professional tradesman. Takes your money and runs. Doesn't answer your calls and messages. Total Scam artist. DO NOT hire he will leave the job midway. A disgusting and dishonest man. Will get you to hire him with his lies and fake pictures of jobs he has done. A shoddy tradesman, who knows nothing.
Sonia
- 5-Oct-21 @ 8:27 PM
SCAM - DO NOT BOOK LT Services Bristol and Bath. I paid £360 and booked an appointment to have loft hatch fitted. First appointment nobody arrived. I messaged & I was told that the fitters van had broken down and they would come on another agreed date. Next appointment, again nobody turned up, this time I was told they were running late on another job. I have asked for a or a full refund refund & they now aren't replying to any messages.
Suzie113
- 5-Oct-21 @ 4:34 PM
Hello I am writing to report a horrendous dodgy tradesman called Mr Hardie from 23 Scarisbrick Street in Southport Merseyside. Please can you take further action against this invidual.There is no need to contact me. Thank you
Johnny
- 23-Sep-21 @ 7:38 PM
Do not use LT Services Bristol and Bath! I paid £360 and booked an appointment to have loft hatch fitted. Yesterday nobody arrived. On messaging, I was told that the fitters van had broken down and they would come today. Again, nobody turned up, I was told they were running late on another job. I asked for a full refund and received no reply to messages and phone calls. Eventually, I received a refund only after threatening to involve my solicitor. Unreliable and unprofessional
Angry
- 17-Sep-21 @ 8:49 PM
beware a comp called manchester plumbers who advertize in local papers,they over charge a lot for basic work
stig
- 15-Sep-21 @ 5:26 AM
Karl Obrien formerly Drives and Garden maintenance then AYR landscapes. Asks for money upfront then never returned to do the job. Scammed people out thousands. Promises he will return the money but absolutely full of excuses, never has returned a penny. Court documents sent off.
Fed up
- 13-Sep-21 @ 11:41 AM
I called for a plumber around 1535 yesterday.He text me at 1638 to call him. I called him and he said he would come between 6-7 ( tight for me as I had to leave for work around 7) At 1855 I called the main office line and said as he hadn't come and I had to go to work I needed to cancel. I note I have a text message from him at 1921 saying he was at my door. Today he is messaging me demanding payment
Unhappy to be bullie
- 13-Sep-21 @ 9:49 AM
Affordable joineron gumtreeid 1263368891 Hired him to fit kitchen and bathroom, as we don't live at the flat we took him at his word when he said the work was just about finished he asked us to send payment and he would come and finish up next day haven't seen him since Work that he hasn't done Kitchen cooker hood not up Hob still to be wired up Waste still to be done in kitchen sink Wallboard still to be put up Bathroom Wallboard not finished Toilet not in Wash hand basin not in Radiator not in The list goes on and to top all that he left the waste open for the toilet and it coming Into our bathroom from the flats upstairs Could you let us know what you decide by 2 o,clock this afternoon thanks ?
Cathy
- 11-Sep-21 @ 6:04 PM
mr richards, garden clearance bristol. shoddy work never showed 1st day, 2nd day spent more time smoking than strimming, constantly stopping for breaks. 3rd on a day and bit job never showed clutch went on van never called. 4th day kept calling me at work to do something or move something. demanding money each visit, left garden in a poor state and reduced two trees to stumps ora totem pole and refused to do the tree i needed doing.reported him to citizen advice and various other places. threatening behaviour and just emailed he will dump all the waste in my garden dispite i paid majority of the fee and said i will pay the oustanding once he completes the job, utter cowboy
sam37568
- 6-Sep-21 @ 3:54 PM
Global Gardens a man called Joe operating in Uttlesford. Conned an OAP out of £600 and didn't even know the name of trees!
Anon
- 2-Sep-21 @ 8:07 AM
DO NOT USE company called STEEP WATER, they wanted money up front to landscape my small back garden , only did 30hrs ish work for over 3K and then asked for almost another2K before all work was completed , lots of the materialshave not been placed on my propertyto complete these jobs , so no patio paving, no rocks for pond, liner, etc and all work is no good and not fit for purpose. When I complain about standard of work to these two names Tom and Adam they said they would go away and think about it as I stated then no more money until all work is completedand I'm satisfiedwith it, so they did a runner and sent email saying they feel uncomfortableabout doing more work !! Well how the hell do they think I feel now that my garden is turned into a building and I'm disabled so now have a job to stand up out there.
Angelfish
- 1-Aug-21 @ 8:36 AM
Never ever trust C H Plasters & Renders from Primrose Close Pontefract, West Yorkshire, very rude agressive, bombastic, tryed very hard to con two OAP's out of nearly £2300 in rendering and unfinnished work, Police called after harrasment corsed by them and they did nothing beware of these rough traders !
wezza
- 9-Jul-21 @ 2:06 AM
Never ever trust C H Plasters & Renders from Primrose Close Pontefract, West Yorkshire, very rude agressive, bombastic, tryed very hard to con two OAP's out of nearly £1500 in rendering and unfinnished work, Police called after harrasment corsed by them and they did nothing beware of these rough traders !
Wezza
- 9-Jul-21 @ 2:02 AM
I can also confirm Karl O'Brien who was trading as Drives and Garden Maintenance who has scammed me and several others has changed his company name to AYR landscapes. Please be aware, his M.O is convincing doing a days or two's work then asking for deposits or extra money before disappearing. It's seems he is getting away with it so avoid.
Scammed
- 6-Jul-21 @ 9:50 PM
Never employ jason wadman in the sm1 area the man is a thief and has no building licenses or training and has left many jobs in the sm1 area unfinished whilst taking full payment then dissapears he trades under too many names too list but beware of the name jason wadman or "wadders building ltd" in the sm1 area
jcbbbg55543
- 3-Jul-21 @ 6:22 PM