Telephone and Email Related Trader Scams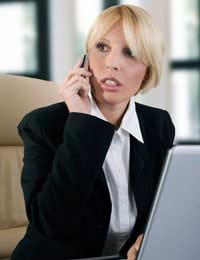 When it comes to different kinds of trades, there are always going to be scams involved at some level. Hopefully you'll be able to avoid most of them, but just in case you're in a situation that seems 'too good to be true', it's better to be aware of existing scams that are out there so you can spot them and avoid them. Trader scams aren't always simply tradesmen such as builders, electricians, painters, roofers etc, but can be far less obvious than that. Below is a list of some of the most common trader scams circulating at present in the UK.
Trade Related Scams
It goes without saying that there are rogue traders in the building industry. TrustMark is a scheme that has been established by the UK Government to help protect consumers from rogue traders.
They highlight some of the most common scams and will offer advice if you feel you've been scammed. Some of the most common trade related scams involve builders or other tradesmen showing up at your door unsolicited and offering to carry out work for you at a reduced price. They will say they were simply passing by or were in the neighbourhood conducting other work and have 'left-over' materials. They'll then identify some issues with your home, even though they haven't conducted a full investigation into any possible problems.
Most of the time, these rogue traders will also offer you a reduced price if you pay cash, but generally this means handing over money upfront and entering into a verbal agreement without a contract. This of course can lead to issues if you feel the work was carried out poorly - you'll have no contract to rely on and in many cases only a mobile number to contact the tradesman. People who enter into deals with these kinds of rogue traders are often left dissatisfied with the work and have no formal route of complaint. Commonly, roofers, driveway tradesmen, builders, fencers, double glazing and even electricians or plumbers are the type of traders who may fall into this very common trade related scamming method.
Telephone Related Trade Scams
It is very easy for scam artists to target people by using the telephone and they often have lengthy scripts planned that will draw people into making agreements with them. Some of the most common telephone scams involve unsolicited phone calls being made and the individual on the other end of the phone telling you that you that you can reap huge rewards by accepting their discount for cash if you agree to having them conduct work on your home there and then. When unsolicited calls come from traders in this way, you have to be very careful. Often these traders will have no association backing and this means you're entering into an agreement with someone who could disappear when they choose to. Always remember also that traders who spend time calling people to try and get business are generally seeking out business because it's not coming to them. If they're as good as they say, people would find them and they'd be too busy working to look for customers.
As mentioned above, another common scam only providing customers with a mobile contact number. If you're entering into an agreement with a tradesman of any type, always ensure that you have their full office address and their landline number. Providing a customer with only a mobile number is an easy way for a rogue trader to avoid detection should something go wrong. They'll simply change their mobile number or block you from contacting them and you'll have no recourse here as more often than not you'll have entered into a verbal contract as opposed to a legitimate written one. If a tradesman tells you he only has a mobile number, alarm bells should start ringing - don't give them any money and seek an alternative tradesman who is more accessible.
Email Related Trade Scams
Many people are becoming wiser to the rampant frauds and scams online, but some who are not familiar with technology or are new to it often get drawn into what appears to be another 'too good to be true' scheme.
One of the most common trader scams online involves emails appearing from 'local' companies offering you great deals if you sign up to have work carried out within a certain period of time.
This is a fairly new phenomenon in trader scamming, but as the popularity of the internet increases, it's an easier way to get into an individuals home without having to knock on their door.
By far, the most common is two-for-one offers or discounted specials from companies seeking work in your area. These will often look professional in their approach, but offers that seem overly cheap or are only available for a limited time can be a way to get more people through the door. It doesn't always mean the work will be carried out to a high standard, or by a reputable company.
If you receive emails that appear to be individual emails directly sent to you from a local tradesman who just so happens to have noticed an issue with your roof/garden/brickwork/windows etc whilst in your area, be wary. This could be any rogue trader looking for a way of approaching you at home in order to obtain cash upfront for the work they'll supposedly carry out. Never hand over cash upfront in any case, always get a written contract and make sure you know how much the work is likely to cost when finished.
Never fall for one of these scams, report them if you can and delete them from your inbox. There are a variety of similar scams existing on the internet, but these are by far the most common.
Overall, it's important to fully understand and recognise trader scams in all their diversity. If you feel that you may be part of a scam, contact your local authority or trading standards. They will be able to advise you on the best way forward and never hand over cash to anyone that offers you a deal that seems 'too good to be true'.
You might also like...
After I took the time to write you an interesting scam warning, you might at least have the decency to acknowledge my effort. In addition, I can't even be sure your server has received it, since the validation word is totally ambiguous to the reader. Is that Moo or MOO or M00? How annoying. Then you put up the same word for subsequent comments as if there was a shortage of letters and numbers, or as if Moo or MOO or M00 was uncrackable by an alphabet attack. I expect you can do better than this.
niggle
- 18-May-20 @ 2:33 AM