The Ten Most Common Trader Scams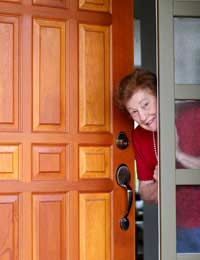 When it comes to scams, most of us are lucky enough to avoid them or hopefully realise it's a scam before we lose too much money. For some though, there's a real danger of losing a substantial amount of money and these dangerous scams are more common than most of us realise. It's important to look at some of the most common dangerous scams around in the UK today and remember that knowing them usually helps you avoid them. With around three million people a year falling victim to some kind of monetary scam, now is the time to ensure you're educated about these rogue traders and known how to keep hold of your money. Here are the top ten most dangerous scams from traders in no particular order.
1. Roofer Scams
It's a common scam to find a roofer turn up at your door with a smile and a welcoming offer of fixing your roof at a discounted price. Often the roofer will say he was driving home from another local job and noticed a problem. He'll commonly have 'left-over' materials and put a 'too-good-to-be-true' offer to you if you enter into a deal with him there and then. You should never accept this kind of offer as you have no contract to back you up should something go wrong and in many cases you may hand over money for a poor job, or one that isn't even finished at all. Always contact a roofer of your choosing should you need help with a roof issue. Roof problems can lead to dampness, construction issues and much more, so always look for an accredited tradesman to deal with otherwise it could be dangerous.
2. Driveway Scammers
For people who have a driveway, there will come a time when it may require a certain level of upkeep or repair to ensure it's safe and not damaging your car. Rogue traders who pass themselves off as driveway experts will drive around looking for any sign of a small issue that they can then highlight to you as a serious concern. They'll knock on your door unsolicited and point out a problem that they can fix for you there and then or within a short time frame. Good driveway experts shouldn't need to go hunting for work, so be warned that they will often leave you with a substandard finish that will eventually mean you'll be further out of pocket as you'll need to hire an expert to finish and correct the mistakes they may make.
3. Builder Scams
Rogue builders cost the UK millions of pounds a year and even with approved government schemes such as TrustMark working to help consumers, these rogue builders still manage to scam many unsuspecting homeowners. Builders who show up unsolicited and offer a discount for a cash deal are scamming you. They'll usually say they were working in the area and had left-over materials so will do your job at a reduced rate. Never agree to this kind of deal. You have few legal rights in this situation as you generally have no contract and even if the work is carried out it may be to a poor standard. If the builder approaches you in this way, most likely he won't provide you with all his office details and you'll only have his mobile number - again, this is a dangerous deal to get into. Use a reputable local builder at all times. It goes without saying how dangerous using a rogue builder can be. You could be putting yourself and your family at risk, so please consider your options carefully when choosing a builder.
4. Double Glazing Salesmen
Unfortunately, there are some double glazing companies who still feel that the best approach is to send their salesmen knocking on doors to try and drum up some business. Reputable companies won't need salesmen out on the ground working for them, business will come to them. If someone knocks at your door offering you a fantastic deal then be wary. Often these special deals will be a limited time offer which means you'll feel pressured into making a decision. Never agree to a trader deal where you feel you're being coerced by the salesmen. Double glazing sellers are very skilled in this area and you can often end up agreeing to buy something you really can't afford.
5. Rogue Handymen
When you're considering hiring a handyman, always try and hire someone that you know has a good reputation. Many handymen will be ill-prepared to deal with the jobs you give them and the age-old idea of 'jack-of-all-trades, master of none' is very true. Handymen who ask for money up front to carry out work may not return to complete the work, or may finish it to a poor standard. If you've already handed over the money, then it's too late to do much about it and you're in danger of being out of pocket with nothing to show for it. Try and speak to friends and family and see if they can recommend a good handyman for any work you need conducted around your home. It can be dangerous to employ the services of a handyman who doesn't know what he's doing - not only for him, but also for yourself and your family.
6. Landscaper Scams
One of the biggest dangers from rogue landscapers is that they can see your garden from street level so don't even have to do a full inspection to pick faults in it to bring to your attention. A good landscaper may simply leave you a flyer or a number should you require his services, but a rogue landscaper is more likely to appear at your door with a list of problems he's noticed in your garden. Many will offer you a cheap rate to have them carry the work out, but then they'll use materials of a poor quality to finish off the work. Avoid landscapers that you haven't approached yourself. It doesn't take much to consider yourself a landscaper and when it comes to intense constructions or alterations to your garden, this can lead to disaster.
7. Rogue Plumbers
Plumbers can be one of the most elusive groups of tradesmen around. People take for granted that when they need a plumber, they have to hand over a large amount of cash often even to only have the smallest problem fixed. It's true that plumbers can be expensive, but don't settle for a dodgy plumber who offers to do the job 'on the cheap' for you. Seek out an experienced plumber, preferably one who has his own firm or works with a reputable firm. They generally won't ask you for cash up front, but will invoice you, protecting you from the danger of handing over cash in advance. Always get a quote from a plumber, don't just take his word for it that you need new fittings or other elaborate parts - the general rule to avoid danger is to get at least three quotes and work out which feels right for you.
8. Rogue Heating and Gas Engineers
During the winter months, rogue traders are out in force looking for possible victims for their heating scams. Many will approach homes that have elderly residents or single parents and play on the terrible effects of winter on their health and their pocket. They'll suggest alternative heating sources, new boilers and more that will save them money in the long run, but don't trust these traders. All gas heating engineers should be registered in the UK with CORGI so always ask for their credentials and their association number. If they can't provide you with this, call your local authority to warn them there's a dangerous scammer around.
9. Electrician Rogue Traders
Many people are intimidated by the thought of handling any electrics in their home so call on the services of a local trader to help them. Rightly so, it's worth consulting an expert as messing with electricity can be dangerous, but so can putting your home electrics into the hands of someone who isn't skilled to deal with them. There are numerous horror stories of rogue electricians leaving their junior apprentices to carry out work so they can do it cheaply, or simply doing 'botch' jobs on electrical wiring around homes. This of course is physically dangerous, but also can end up costing you more in the long run. Speak to friends and relatives to see if they can recommend you a local electrician or alternatively contact your local trading standards office or a reputable firm.
10. Tiler Trading Scams
Tilers are one species of tradesman that are almost impossible to find at times. Even when you believe you've secured a decent tiler, many don't show up or show up late and this doesn't tend to instill much confidence in you as a consumer. If a tiler approaches you unsolicited, then you may be so grateful to find one that you'll agree to a deal there and then. Be very careful with this approach as often they'll require money in advance and you may then never see them again. The other issue is that you're leaving the choice of materials in their hands and they may use cheaper materials that won't last as long as you hope. If you do need a tiler, look in the yellow pages for a firm or look in local association websites to see who is recommended in your area. You may need to wait a little longer, but it'll save you money and stress in the long run.
As you can see there are a variety of dangerous scams in existence and this list is by far from exhaustive. If anything looks or feels unusual to you, go with your gut instinct and don't agree to a deal unless you are completely sure it's 100% reliable and reputable.
You might also like...