Scam Awareness Month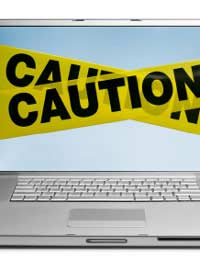 Scams Awareness Month 2011 has been running for the whole of February 2011, and aims to highlight common scams that seem to still catch consumers out, and teach the general public what to look out for.
Despite frequent awareness raising campaigns and even sites such as trader scams trying to educate consumers about the type of scam that can affect them if they aren't careful, the 'scam industry' is thriving. According to the Office of Fair Trading (OFT) the amount of money that's lost to scams is already a 'significant problem' in the UK. The scams that people are taken in by can vary – anything from fraudulent offers sent by post, telephone calls, email spam or even scams that use SMS to target their victims.
What are some of The Most Popular Tricks and Scams?
The OFT believes that some of the mass marketed scams, which include fake foreign lottery prizes and amazing prize draw scams that have been around for many years are still a problem, as are bogus psychic predictions, and junk mail about the latest miracle health cures.
On top of this, people still get taken in by bogus 'holiday clubs' and fake sporting event and concert ticket websites which are quite frequently used to con people out of their hard earned cash. The scammers aren't fussy about who they target, buying lists of addresses (email and postal) and sending out their rubbish en masse in the hope that of the thousands of junk mails they send, a few people will be taken in by them. Typically, it tends to be elderly and vulnerable consumers who often fall victim to the scammers – and in fact they are also favoured because they are more likely to be fall for other tricks and become scammer's repeat victims.
The figures are staggering - according to the OFT, almost half of the UK population has been targeted by a scam at one point or another, whether they went along with it or not. With that in mind, it's hardly surprising that three million adults – which equates to 6.5 per cent of the UK population –has actually admitted to falling victim to the scammers techniques, resulting in £3.5 billion going into unscrupulous scammer's pockets every year.
What are The OFT Doing about Scams?
The OFT are clearly concerned about the extent of scam activity in the UK (much of which originated from outside the country) and so they want to educate consumers about the types of scam that are about, in the hope that less people will be fleeced of their money.
They have instigated a scams awareness campaign, which is being run in partnership with local authority Trading Standards Services and some other key organisations, with the clear aim of raising awareness of scams and working to reduce the number of people taken in by them. Scams Awareness Month consists of three themes:
Scamnesty 2011:
This is a national campaign with local authority Trading Standards Services, who place bins in prominent places in the community and ask consumers to put their junk mail in the bins. Participating TSS place bins in their local communities. It's designed to raise wareness in local communities and get people talking about the issues. The campaign is being promoted on TV, radio, newspapers - print and online, and in magazines, blogs, and social media.
Holiday clubs
This part of the campaign focuses on getting the message across to consumers. On Monday 21 February 2011, Trading Standards services across the UK will be distributing consumer information at UK airports, highlighting the issues that holiday makers need to be aware of, including new consumer protection regulations which take effect from 23 February 2011.
Ticket scams - Just Tick It
The Just Tick It campaign is aimed at increasing awareness of fake event and concert ticket websites and provide ticket buyers with advice on how to avoid being scammed.
You might also like...