What to do if you're Unhappy About Work Done by a Tradesperson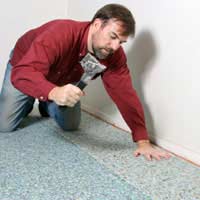 Most people will hopefully never have to deal with an unhappy encounter with a tradesman, but for the few that do, it can be a very stressful and worrying time. If you've had work carried out on your home and you are unhappy with the outcome, there are a variety of different routes you can take to try and have the matter resolved. Although they may seem daunting at first, remember that you're paying someone whom you consider to be a professional to conduct work on your behalf. If you feel they haven't lived up to their side of the contract, then it's entirely within your rights to pursue it further.
Take the Personal Approach First
If you feel unhappy about work at your home, the first point of contact should always be with the individual who carried out the job for you. Most reliable tradesmen aren't going to want their good name tarnished, so they'll be open to listening to your complaints about any work they've conducted for you. If you feel that you can't speak to your tradesman, contact the owner of the company he or she works for and if they are the owner then your next step would be contacting the trade association that governs your tradesman. If you really feel that you have to take this approach, it's better to ensure that you know exactly what your contract specifies with regards to being unhappy with your tradesman.
A Good Contract Saves a Lot of Stress
When you first entered into a contract with your tradesman, you should have hopefully put in some provisions there about what happens when things go wrong. One provision should have included the option of either you or your tradesman getting out of the contract if they need to. Another should have been that your tradesman must return to fix any problems you are unhappy with when the contract has ended.
Many people also add in a clause that states that they don't have to pay until they're fully satisfied with the job. This is a great way of ensuring that your tradesman is always willing to fix any problems and be available to talk about any issues you're having. If they aren't getting paid, they're going to want to get things wrapped up as soon as they can so the money is in their bank and not yours. Another great aspect of checking your contract before approaching outside agencies for help is that you'll fully know your rights and know what legalities you're entitled to through the contract. If you're unhappy with your tradesman, but your contract has no provisions for that, you could be facing an uphill battle. You can however cancel a contract with a tradesman and employ another if the original tradesman has failed to complete the work to your satisfaction after a specified time limit.
Getting Help from Outside Agencies
If you feel you've exhausted your personal contacts with the tradesman or his/her firm, it's time to look for outside help. You can find many useful mediation points in outside agencies who specialise in helping customers deal with tradesmen they're unhappy with. Your first stop should be to look for some kind of arbitration scheme, but remember that when a decision is made through such a process, it is binding. You can't then take the tradesman to court if you're unhappy with the decision made. Another option is to speak to your local Citizens Advice Bureau and ask for their advice. They can often provide you with a variety of options to pursue before you have to go down the road of local courts and large legal costs. You can also speak to a private solicitor if you have one, as this way you'll be dealt with in a timely manner and on an individual basis. This will cost you though, so ensure that all other avenues have been exhausted before trying this.
You might also like...
PLEASE DO NOT USE PENNY LANE PLUMBING THEY ARE CONMEN.THEY CHARGED MY ELDERLY MUM £170 YES £170.AND NO RECITE.PLUS THEY HAD NOT EVEN FIXED THE TOILET FLUSH. UPON PHONING HIM BACK HE WAS VERY VERY AGGRESSIVE. SAYING ROOF AND ROOF TILES WOULD NEED TO COME OFF NEXT.?? TO FIX A TOILET FLUSH?? QUOTING £400 £600 ?? THINK HE TAKING ADVANTAGE OF US JUST BEING TWO WOMEN IN THE HOUSE. PLEASE AVOID THIS SO CALLED ' PLUMBER '. HE HAS CAUSED A LOT OF DISTRESS.PENNY LANE PLUMBING. SO CALLED
Just me as I am Mich
- 13-Nov-21 @ 7:12 PM
I've had doors fitted and not happy with them. I've not paid him yet, do I need pay him. Missed up all my doors. Please help me what to do
Mac
- 20-Sep-21 @ 7:47 PM
Had a company called future homes come and render my home, should have taken 6 days it's now 5 months later and still not finished, they wee in a bottle and left it for all to see, I complained and 2 days later he had peed in a bucket, 3 times the project changed and the price kept going up, I keep calling them but they no longer answer my calls, what can I do ?
Andy
- 7-Jun-21 @ 11:48 AM
Had a company fit 3 bath shower screens, all faulty though as they came out of the packaging. choose a different screen, it was fitted but leaks, glass has been damaged also and the owner forcability removed part of a seal. They are now demanding i pay the £420 or they will go through their debt collection company. Do i have to pay them them claim it back in small claims court as well as the damange done to my bath, chipped in couple places, plus the sealer redone around my bath is awful. I have asked them to remove it all and out right the damange which they are refusing to do but are threatening ne with a debt company. Citizens, Advice say i should oay then go to court to get my money back, is this the onky way?
shelly
- 1-Jun-21 @ 7:06 PM
I had a leaflet through my door from a local gardening firm called tree & garden services. I phoned them and the owners son came an quoted me £180 for trimming a couple of conifers a cane bush n a row of fuscias n what I thought was going to be tidying my borders. The company massacred my bushes n didn't do the borders. They did take waste away. I complained to the owner of the business he said he would get his son to contact me and would come and see me personally. The first phone call from the son said he would drop my cash back off for me but then I got a second call saying I could have half cash n half the waste. When I asked if he was threatening me he no. To me it was a threat. I got no receipt for the cash paid n will put this down to experience. I do not want this to happen to anyone else. The company has no website. I have already asked. And they are based in at Helens Merseyside.
Becky
- 8-Feb-21 @ 7:39 PM
Please avoid using http://bespokedesign.london/ which is ran by a guy named Alex Castelo who has no prior building experience. They claim to build "luxury" bespoke furniture; instead, their work is of very poor quality (especially the finishing touches), their behaviour is very unprofessional and they scam people into paying down early and then extend the project by months by simply avoiding any communication until it's convenient for them. Their workers also don't respect any Covid measures by not wearing masks or by not using gel throughout the entire time they are on the working site.
Charles
- 5-Feb-21 @ 8:40 AM
Sean Evans of New Quay Wales...calls himself a tradesman , the work was shoddy, leaks from plumbing, different men on the job, Spoke to us like dogs ....beware
wales
- 23-Oct-20 @ 2:51 PM
Under no circumstances use C S&M building services limited, also known as CS Construction services in the Devon area. He done my mums roof and left gaping holes all over it as well as not cementing in the whole of the side leaving it wide open to the wind and rain. He does not live at his registered address and even has the nerve to be on check a trade and book my builder. We intend trying to locate him to take him to court as he charged my mum over £700 and now she's had to have another roofing company out to re do the entire job. The new roofing company also confirmed that he had cracked a couple of my mums neighbours brand new roof tiles and also left a few of my mums cracked. The felting was all left hanging and he never even replaced the felting along the eaves. He goes by the name of Craig Stephens.
Cazza
- 10-Oct-20 @ 3:31 PM
I had some work done by Mr Handy Hands Ltd, he said he wouldn't quote me as I am his mums boss so to give him what I though would be right. He had 3 different lads helping with the work, which I found out they were on benifits and not declaring any of this money. Never on time there always arriving at 10:30am going at 4pm and some days didn't even turn up. This were in 13 days they suppose to be there. I then had enough and payed him£1360 after asking for invoice and never received it, what I did receive via a picture on messenger a receipt of £1360 paid outstanding another £500! What can I do? As I am receiving threats for the last 7 days and refusing to pay more due not been done properly and had to employ a building company to correct and finished all the work! This company is registered with a address that he doesn't live there at all, is his mums house that doesn't even know what he is doing, poor women. Advise please.
Handyman
- 4-Oct-20 @ 11:06 AM
Do do not have warren miller or Spence to do any work in your home cowboys covers up damp in my home new extensionhave had to have floor taken updo not answer phones or messages
Nanna
- 2-Oct-20 @ 10:18 PM
I had a fencer do a job. Build a fence in my garden. Most of it was great, but one section he fitted faulty wood, I asked him to replace 5 planks, he has done that. There were a few other planks that dont look as good quality and were lighter in colour, he said that it was the treatment and it will come off. I have tried to wash it off and it won't. I am really upset that I am having to ask him to come back again.
Ellen
- 5-Sep-20 @ 7:10 PM
I've just had a rendering compay in called Insurend quoted me £2040 for the back of my bungalow. Luckily for us my husband is a plasterer by trade so new what was supposed to happen in stages! First day they turned up and asked my husband if he had a drill & screws!!!! they put the first coat on without putting the beads on round the windows and edges of walls, left the garden a mess, cigarette dimps over the floor half eaten buttyson my chairs in a bag for my dog to find!! Couldn't let my dog out! Complained my husband asked the worker the next day has he done it before to his reply "a little bit! " He poured all the excess material down the outside grid which is now blocked! They even asked us if we had a cigarette!Got in touch with the firm said we don't want them here send someone who knows what there doing! He sent them again while we were at work to put the beads on which were loose the walls were a mess, patchy, uneven, we then said do not send them ever again which obviously they realised they were annoying us "the customers" they sent one of the best renderers which they have working for them to be told this is the 4th job he's had to put right! When finished asked about the price for everything we've been through they said as a good wI'll gesture we will knock off £150-200 what a joke! I wouldn't have paid a penny for the trouble and stress it put us through but my husband came to an agreement of £1500 which totally caused arguments in my home! So I am telling anyone who wants there home rendered do not have Insurend do it !!!
Jackie
- 6-Aug-20 @ 7:04 AM
Just had a plumber from North Cowton which is near Darlington County Durham fit a new bathroom suite. Ended up wishing I'd done it myself and saved myself £600 for 11 hours work. Some tradesmen think that because they are in demand they can charge ridiculous prices and as long as people like me are paying those prices they will keep quoting them. Please don't even think about having this tradesman on your property.
Yeti
- 27-Jul-20 @ 5:55 PM
i had a handyman to do work for me hespent all his time on phone or not turning up charged me for 160 hours work when he done as little as 16mthe work he done was to a shoddy standard gave him 1.000 for materials. did not supply invoices or receipt for materials even though i kept asking him most of goods supplied was seconded hand not in boxes or with instructions i refused to pay i am now being sued by him what a joke. the laws in this country seem to favour people like him l have used checkatrade my builder for other work and the workmanship is as bad. i have lost all faith in the trades who just seem to want a quick buck and move on .
none
- 19-Jul-20 @ 10:55 AM
Oasis landscape flint ie brian oxton trades in around Chester area of uk . Paid £5500 .to get garden done ,laid slabs all uneven ,not fixed down ,artificial grass put down but not even fixed ,weeds all coming through after 3 x weeks . On trust a trader website . Invoice on scrap paper .
Star
- 14-Jul-20 @ 1:13 PM
Dean blues. Must be the United Kingdom's biggest con man. A career criminal. His next 'company' which is company number 10 is called d b electronical and is in the North east of England. AVOID
Sal
- 30-Jun-20 @ 8:10 PM
I'm dissatisfied with work done by a roofer to repair a leak they fleeced me dry and wanted more money to repair the same leak didn't replace any broken tiles or flashing tape for the chimney and valley and never found the leak. now I've got get in a new roofer which going too be more costs .Kept on telling me I needed a new roof Don't know how to make a complaint for the poor work from this trader
Gray
- 14-Jun-20 @ 10:19 PM
@ MM - I'm in similar position but with plumber. I fear he may have installed an unsafe pressurised system. Luckily, i picked up on it and turned it off. I'll have someone else come check. The guy is qualified on paper to do the work but not sure if he's just incompetent or lazy. Either way if i'm right he's not coming back into this house. Luckily I haven't paid for the work yet.If there's anything left after fixing the problems i may pay him it.
HollandA
- 6-Jun-20 @ 10:11 PM
On 19 November 2019 firm called XLROOFING(smart van logo onside) did some lead flashing round chimney base and pointing. Originally told us it would be approx £200, then when his labourer up on roof came to door, said it wouldbe £750 !!. CASH only. Husband was away for day, and as they were already starting work, thought I could notrefuse and leave chimney stack vulnerable. Had to go to bank for cash. We got receipt. In April, part of the lead - well its not lead as it was flapping about ! came away from chimney. Showed it to our son, who commented was the pointing done in the dark !it is appalling ! I phoned about problem - he sent another man - A LINE ROOFING -who looked at it, and said I am not touching that, thought it was a small job !! (he then said we can do it for you at a price !!)I said will you tell Joseph (from XL) as we need it sorting. Joseph phoned keeps promising to come I have e mailed, phoned but nothing. He did work for a neighbour, BUT their receipt shows a different trading name J G & SON ROOFING - I am extremely upset - I have googled their name an address comes up but it appears to be on a road and what appears to be a load of caravans, I think they are travellers (could use a stronger word here) We have been robbed.I have just composed a letter threatening legal action if they do not come back but I am not optimistic . So please people DO NOT EMPLOY - XL ROOFING, A LINE ROOFING, OR J G & SON ROOFING. They are thieves.
Juggo
- 3-Jun-20 @ 11:30 AM
Carpenter installed kitchen and they are problems everywhere, draws wont close, wall cupboards have been fixed wonky on the wall. chip, knocks, gashes! reunied worktop. I havent paid him yet and he has offered to put the work right but there is so much wrong i have no faith in him doing a good job. There are panels that will need replacing and if i pay for more what happens if he messes those up? Advice please, do i let him try and fix or get someone else? thanks
I had my front garden cleared and earth put in instead of compost as promised by the gardener, within two weeks grass started growing and weed came and for this I paid £150 cash. I called him to complain and write messages, he was rude and said it was me who put the wrong compost. The oddasity of him is the he comes and dies my opposite neighbours garden and parks his van outside, he does not make eye to eye contact. It's frustrating, I have his car reg and number but don't know what to do. I don't want my sons or husband to confront him as I don't want trouble. He is actually doing work at my neighbours today. Help and advice please
Nors
- 8-May-20 @ 1:27 PM
my daughter gave a man who does odd jobs £220 to do some tiling for her he hasn't turned up to do the work as he keeps making excuses & wont give her money back is there anything we can doplease
jules
- 7-Dec-19 @ 11:17 AM
Hi, I've had garage doors made/fitted by a joiner 2.8m x 2.1m approx 3 months ago. He made them ledge & brace (not 'framed') using 16x2cm soft wood planks (not T&groove). The planks shrank and there were upto 1-2mm gaps between them (largest 4mm gaps) .. enough to see into garage .. I complained & he caulked the gaps .. which obviously got squeezed out.. now he has gorilla glued the gaps (foam type and sanded back). There were other basic issues now fixed but have caused loss of confidence & to me they remind me of barn doors.He now wants final payment & has said this will resolve the gap problem but I believe the glue will get crushed out, that the planks will warp, the doors droop/drop (but on this last point there are big 60cm galvanised hinge arms to stop that) ... I'll be back to having gaps/problems& the doors won't last the 10-15 years minimum I'd expect. Can you tell me if I am wrong, will glueing the gaps this way work, and I should pay up or how else I can get an unbiased/independent2nd opinion .. thank you in advance
tp mortgage
- 30-Jul-19 @ 10:24 AM
Hi, I've had garage doors made/fitted by a joiner 2.8m x 2.1m approx 3 months ago. He made them ledge & brace (not 'framed') using 16x2cm soft wood planks (not T&groove). The planks shrank and there were upto 1-2mm gaps between them (largest 4mm gaps) .. enough to see into garage .. I complained & he caulked the gaps .. which obviously got squeezed out.. now he has gorilla glued the gaps (foam type and sanded back). There were other basic issues now fixed but have caused loss of confidence & to me they remind me of barn doors.He now wants final payment & has said this will resolve the gap problem but I believe the glue will get crushed out, that the planks will warp, the doors droop/drop (but on this last point there are big 60cm galvanised hinge arms to stop that) ... I'll be back to having gaps/problems& the doors won't last the 10-15 years minimum I'd expect. Can you tell me if I am wrong, will glueing the gaps this way work, and I should pay up or how else I can get an unbiased/independent2nd opinion .. thank you in advance
tp mortgage
- 30-Jul-19 @ 8:01 AM
We have a tradesman in at the moment who is capping our fascias and soffits and replacing our gutters. Over the weekend, when he wasn't there my husband and I had a look at the work so far and to be honest it looks pretty shoddy - joints are mismatched, no air vents (he has covered over the original air vents with new plastic) We also had a neighbour call over to warn us that she was currently in a dispute with him over poor quality garden work he has carried out for her. We have not paid up front but as he is due to finish in the next few days payment will be due. Is there a service I can access were a surveyor would come and assess the work before we pay? Happy to pay for the peace of mind!!
Karen
- 23-Jun-19 @ 9:16 AM
Had our drive powered washed, sanded and so called sealed. After a few days weeds appeared worse than ever, contacted the Wcompany, Affordable Paving who said they would return as the work was guaranteed for 5 years, but of course no one has returned and now will not speak to us on the phone. It seems they live on a Gypsy camp and the address on the invoice is not the correct address. Beware of this company they are cowboys. They did the same thing to our neighbours. The sealant they used was diluted.
Wadie
- 17-Jun-19 @ 5:48 PM
I paid quite a lot to have my paved drive cleaned and sealed, it only took one person a few hours to do, and I wasn't really sure that they had sealed it, at a price of £1,100 I think I must have been well a truly conned, and now a couple of weeks after the work was done weeds are starting to appear again, what should I do, I phoned the company and was told they would come and see what has happened, but what do you now they didn't turn up, what should I do now
Gioia
- 24-Mar-19 @ 4:33 PM
A painter and decorator did a job for me which was to paint the living room, toilet and ensuite. He charged me a day rate of £220 for 3 days. My new born was in hospital so I left him a key and let him get on with it. I came home 1 day and picked up on something I wasn't happy with and let him and he told he'd sort it. When I came home after the 3 days with my newborn I was disgusted with the finish in every room, I could have done a better job. He offered to come back and sort but I don't want him back it was that bad. I don't want to pay him a penny either as he's caused me a lot of distress and I'm now going to have to pay someone a fortune to correct. Where do I stand?
Mark
- 1-Oct-18 @ 11:57 PM
O paid a £50 call out fee which was to cover first hour of work to restore signal to my TV. Fixed in 5minutes however one week later problem back and he has failed to turn up to fix. What redress have i got ?
Jean
- 20-Sep-18 @ 12:55 PM
I have just been scammed by trades man who came in to fix a broken reeded glass panel at my front door. He claimed he bought the sheet of reeded glass for £220 and spent less than 30 mins to fit it. for which he charged me 80 pounds. I have searched on the internet and a sheet of ribbed/ reeded glass on the internet cost on average less than 50 pound. I am gutted and don't know what to do as he capitalized on my ignorance in the first instance. Who can I report this to? what should i do? I know this is not right and he did not tell me the price before he started working as i was on a work call at the time
Mule
- 21-Aug-18 @ 5:07 PM