Legalities When Work on Your Home Goes Wrong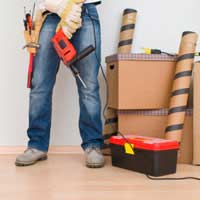 Most people who are carrying out work on their home have no real idea of the legalities involved when things go wrong. Many people maintain an optimistic outlook that they have chosen the right tradesman for the job and that all the work will be carried out to the highest standard with no issues. Sadly, for many this isn't the case and there can be a variety of different issues that lead to an unhappy arrangement between you and your tradesman. If you are one of these people, it's important to understand some of the legalities involved in what to do when things go wrong.
Common Ways Things Go Wrong
There are variety of ways that people start to feel unhappy with the work being conducted on their home. Primarily it falls into a few categories - delays in the work being completed, work being finished to an unsatisfactory standard or unauthorised work being carried out and charged for. For most people, these are the reasons that cracks start to appear in the customer/tradesman relationship and often many people will try to sort these out one on one with the builder. If you find that you're unable to resolve the matter directly, then there are other options available, but knowing the legalities involved in your rights as a customer are paramount in successfully reaching some kind of agreement with the builder.
Your Basic Rights as a Consumer
All tradesmen and service providers fall under The Supply of Services Act 2003 and also The Sale of Goods Act 2002. Scottish law may be slightly different, but generally the rights for you as a consumer are fairly static. When you enter into a legal contract with a tradesman, you can expect that the work is done:
In a reasonable time (assuming there's no specific time set on your contract)
For a reasonable amount of money (if you didn't specify a fixed price on your contract)
With reasonable care and skill
All goods and parts that are used in the work being carried out at your home should also adhere to The Sale of Goods Act that states:
Goods used in the work should be of satisfactory quality
Parts or goods should be fit for their intended purpose
All parts and goods should be as originally described
Available Options When Things Go Wrong
If things go wrong, there are always legal ways around getting them rectified, but remember tradesmen can also call on the legalities that protect them, so ideally it's better to sort it out on a personal level if possible. If this option hasn't worked, you may want to consider checking your contract first. Your contract should have provisions contained within it regarding what is legal in the situation you're in. If you're unsure of anything in the contract, go to a solicitor and ask them to take a look at it. It may cost you, but it'll be less expense in the long run should you have to go to court. There are a number of legal options open to you dependent on the circumstances you find yourself in:
If work is not done on time, you can write to the trader to make time 'of the essence of the contract'. This allows you to legally set a specific date for the work to be finished and if it's not by this stage, you'll consider the trader to be in breach of contract and you will then be free to go elsewhere. Most tradesmen won't like this option, so try and agree on a practical solution of fair compensation for any delay.
If you're not happy with work carried out, it's within your legal rights to give the tradesman a chance to rectify the situation, but if he or she doesn't, then you can approach a governing body or a local small claims court. Always let the tradesman know in writing exactly what you're not happy with - this may be needed at a later date.
If a tradesman has taken it upon himself to carry out unauthorised work, it's entirely within your legal rights to refuse to pay, however, you may have to take this to court in order to avoid payment. In some cases, if the work is what you would consider necessary, then you can work out a payment method or amount with the tradesman. Only if you're entirely sure it was not needed, should you consider going to court.
If you're still not happy with the work carried out by your tradesman, consider holding some of the money owed back, but always explain why you're doing so and be prepared to negotiate. It is within your legal rights to do this if there's a dispute, but only do this as a last resort, as you can imagine, most people want to be paid for the work they've completed
Know Your Rights
Perhaps one of the most important pieces of information to be learned is that as a consumer it's always worthwhile knowing your rights. If you know exactly what legalities are covered when something goes wrong with a tradesman, you'll know what boundaries to push. You should also always consider getting outside legal advice from the Citizens Advice Bureau or a Trade Association if you still have no resolve on outstanding issues with your tradesman.
You might also like...
BBC Glazing Ltd, in brentford I WOULD LIKE TO REPORT AND WARN OTHER HOMEOWNERS ABOUT A TRADESMAN ON MY BUILDER, THE COMPANY IS BBC GLAZING LTD IN BRENTFORD, MR WASIM MALIK. WE HIRED HIM TO REPLACE OUR WINDOWS AFTER WE SAW HIM ON MY BUILDER, HE GAVE US A QUOTE BY EMAIL AND BOSTED ABOUT HIS COMPANY AND AMAZING SERVICE. THE WORK WAS CARRIED OUT IN APRIL/MAY 2019, TO DATE THE WORK HAS NOT BEEN SIGNED OF AND WE HAVE NOT RECEIVED OUR COMPLETION CERTIFICATE. THE LOCKS ARE JAMMED AND DO NOT OPEN AND THE BIFOLDING DOOR IS JAMMED AND DOES NOT OPEN. THEY HAVE MADE FALSE PROMISES AND CONTINUED TO LIE FROM DAY ONE, THEY ARE NOT FENSA REGISTERED WHICH THEY CLAIMED AND PROVIDED US A QUOTE ON THIER LETTER HEAD. EVEN LAST WEEK THEY PROMISED TO CARRY OUT REPAIRS AND SENT A REP TO FIX THE DOOR, HE CAME HE STARTED AND COULD NOT FIX AND AFTER SPEAKING TO WASIM RESCHEDULED TO COME BACK AFTER EASTER BREAK WITH THE NEW PARTS. AFTER FAILING TO COME I WAS THEN SENT T&CS WITHOUT ANY EXPLANATION. AFTER CALLING THE OFFICE WE WERE TOLD THAT THE WINDOWS WERE OUT OF WARRANTY. THEY HAVE NOT COMPLETED THE WORK FROM DAY 1 SO NO WARRANTY HAS STARTED AND NOTHING HAS BEEN SIGNED OFF COMPLETE TO SHOW A WARRANTY START DATE. MY WASIM IS VERY RUDE AND DOES NOT EVEN ANSWER OR TAKE ANY OF OUR CALLS IN THE LAST YEAR AND ALWAYS GETS UP PEOPLE TO ANSWER AND SAY HE IS OUT OR NOT AVAILABLE. I HAVE PICS OF THE QUALITY OF THE WORK TOGETHER WITH THE QUOTE SAYING HE IS FENSA REGISTERED WHEN HE WAS NOT. MY WORK IS NOT COMPLETE AND IT IS FAR THAT EVERYBODY IS MADE AWARE OF HIS ACTIONS AND HIS SERVICE AND AFTERCARE SERVICE. HE USES DELAY TACTICS TO NOT CARRY OUT THE WORK AND THEN TRIES TO BLAME THE CONSUMER TO AVOID DOING REPAIRS HE WANTS TO BE PAID IN CASH AND EVEN LAST WEEK HE SAID ONCE THE WORK IS COMPLETE HE WILL PROVIDE US WITH A FENSA CERITIFICATE EVEN WHEN HE IS NOT REGISTERED WITH FENSA
Tony
- 10-Apr-21 @ 2:49 PM
four years we had our house coatedwith a protective coating guaranteed not to flake or crack and covers cracks, in March 2019 cracks started reappearing and paint started flaking off in big pieces. The company came out and very reluctantly agreed to re do it. 18 months later after numerous phone calls its still not been done.When we phone he says next week but never does. Not once have they apologised or given a reasonable excuse. Help
LOUROG
- 26-Oct-20 @ 10:21 AM
I can only say that I have made a really honest account of this and that we are totally lost that nothing substantial begun to help us.
Gerry
- 14-Dec-16 @ 12:11 AM