Writing a Complaint Letter About Your Scam Trader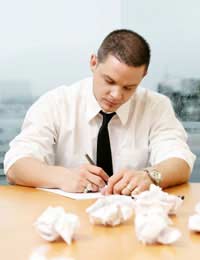 If you're the unfortunate victim of a scam tradesman, you may feel that you want to write a letter of complaint to try and achieve some level of understanding, resolution or simply closure from the entire situation. There are a number of tips that can help you not only write an effective complaint letter, but also ensure that your tradesman must deal with your complaints.
Top Tips For A Good Complaints Letter
Writing a good complaint letter can often be more difficult than you'd imagine. If something has particularly affected you emotionally, your passion and anger over the issue can lead to a rambling, ineffective complaint letter. The trick is to try and write the letter calmly, while managing to still show your anger at the situation.
1. Write to the most senior person involved. If this is your tradesman, address it to him. If he works for a company, address it to the Director.
2. Keep it short. Make sure that you don't ramble, but rather succinctly put across your point of view in one page, two at most.
3. Clearly identify the issue and explain the situation. It's important to choose the most crucial aspects of the problem and provide dates, names and times when possible.
4. Maintain a diplomatic yet firm tone. Try to get your point across in a respectful manner and remember that many people will want to help if they see a customer has a complaint.
5. Highlight your disappointment on a personal level. Companies and individual tradesmen who pride themselves on high levels of customer care don't enjoy hearing that they have let someone down. Outline how you've been disappointed in the work and shame them into feeling guilty.
6. Provide them with a chance to reply. Always end your letter with an expected reply date. Generally around 2 weeks is acceptable, but if you're hoping for action to repair something that isn't to your satisfaction, you may need to give them a little longer. Explain you'll take your business elsewhere also if they are not willing to help.
Specific Points To Include On A Tradesman Complaint Letter
If you are complaining about a tradesman, you need to focus in on what the actual issue of contention is. If you have a long list of complaints, condense them down into short sentences or bullet points and add these to your letter. Focus on the overall disappointment of the work that was carried out and ask your tradesman to repair or 'make good' the work to your standards.
You should always keep a record of ongoing work at your property and photocopy these and add them to your complaints letter. If there are delays or other anomalies in relation to your work, you can refer back to these records and ensure that you are factually correct. For a tradesman complaint letter, it is essential to succinctly state the issues, give them time to repair and outline the next step if they don't repair.
What To Do Once You've Complained
Once you've made your complaint known, you must be patient and await a response from your tradesman. Most will want to ensure you're happy with the work, especially if they're reputable tradesman who are highly recommended. If you hear nothing back, you should forward the complaints letter to the correct authority.
Your tradesman will normally belong to some kind of professional body and will therefore be governed by them. If you feel you've been treated unfairly then you should get the authority involved to mediate the situation or provide a dispute resolution.
You might also like...