Scams and Hoaxes that Can be Avoided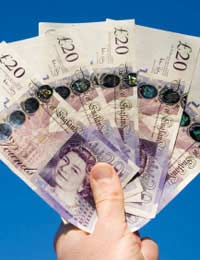 Thousands of UK householders every year are scammed or hoaxed by rogue traders simply because they don't know what to look out for.
There are some very obvious scams and hoaxes going around that can be avoided if you know what the signs are. As unfortunate as it may seem, the trick is to try to initially show caution with any tradesman until you're convinced that he is able to deliver what he promises. Often the only way to do this is to give him a chance, but generally this is the least advisable way of employing someone.
Always research your potential tradesman as much as possible before signing any contract and look for the obvious signs of a hoax.
Common Hoaxes And Scams By Tradesmen
There are a variety of hoaxes that rogue traders will use to try and con householders out of money. Most are relatively simple to remember and can prevent you from getting involved with a trader who is likely to either overcharge you or complete the work to an unsatisfactory standard.
Cash Con – Asking for money upfront or asking to be paid cash only. This is very common and generally means the trader is either unqualified, likely to disappear, or will only carry the work out to a basic level
Mobile Calls Only – If the trader you're thinking of dealing with doesn't have a landline number, don't give him any money. He can't be trusted and you're likely to find it difficult to get him on his mobile
No Contract Man – This trader will give you his word that he'll complete the job to a high standard and will be hesitant to have any contracts involved. Often this is so there is no paper trail and he can pocket the cash from the job
Magic Materials – Many traders who are looking to scam or hoax individuals will magically have all the needed equipment and materials in their van when they knock on your door asking you if you need some work done. They'll generally observe your area for a few days and then go around doing numerous jobs at once
Always Finished Early – Tradesmen who are always finished early and never seem to provide you with work progress updates or any kind of certificates or warranties are likely to be trying to scam you. They'll probably disappear without you being able to get hold of them again
Being Alert For Scams And Hoaxes
The most common scams and hoaxes can always be avoided when you know what you're looking out for. Other than the points mentioned previously, there are general scams and hoaxes to avoid.
Roofing Scams – don't believe your roof needs fixed just because a local roofer happens to have driven past and 'noticed it'
Driveway Scams – Unless you notice a problem with your driveway, assume that it's fine. Tradesmen who drive past and then come in offering to fix your 'problem' driveway are often just looking for some extra cash
Door to Door Tradesman - Good tradesman don't need to knock door to door as they'll always be busy
Overstock Scams – Tradesmen who show up claiming to have 'overstocked' on a certain item (windows, bricks, tiles etc) are generally trying to do some jobs for cash and shouldn't be trusted
Reporting Scams And Hoaxes
Hopefully most people won't be in the situation where they have to report a rogue tradesman to the police, but if you do find yourself conned due to a tradesman scam or hoax, please report it as soon as possible. If you're not sure who to speak to, go to your local police station or citizen's advice bureau and ask for help. They will normally be able to put you in touch with an association or organisation that can help you.
You might also like...
Yesterday I posted a comment about JD Electrical Contacts and a Mr John Dowsom. I took a screenshot of my post and emailed it to him. He contacted me today and has since issued a full refund and an apology asking if my comments can be removed. I consider the whole sorry episode resolved and would like to thank your team for giving him the kick he needed. Hopefully he won't put anyone else through the same experience. I would like to remove the post but can't find how I can do this. As I said to Mr Dowsom, there is a valuable lesson here for both of us. In future I will follow the advice and never give money upfront until I'm absolutely certain I can trust the tradesman. Mr Dowsoms lesson I believe is don't keep people hanging and make promises you can't keep, especially when peoples hard earned is involved. Losing your reputation and future business for the sake of a couple of hundred quid isn't worth it.
Jmac
- 15-Jun-23 @ 11:54 AM
fences - Your Question:
I engaged a tradesman from gumtree, as I needed to replace some old fences in my garden.it was my first time on this kind of things and I was inexperienced.he was 5 hours late he looked very reliable and came with his 17 years old daughter who helped him a lot.he worked hard from 3pm to 7pm but as he was late he didn't manage to finish the job on time. still one fence to fit and some mesh to fix all over the wall. he he left my garden promising to finish the job the day after.I paid him almost the full amount, but he never showed up any more.he doesn't pick up my calls and does not reply to texts.I trusted him and didn't take surname or number plate, the only things I have are his name and his mobile number
---
Our Response:
If he is advertising via Gumtree, then I should complain to Trading Standards, which takes a very harsh view of cowboy traders.
TraderScams
- 28-Aug-15 @ 10:28 AM
I engaged a tradesman from gumtree, as I needed to replace some old fences in my garden. it was my first time on this kind of things and I was inexperienced. he was 5 hours late he looked very reliable and came with his 17 years old daughter who helped him a lot. he worked hard from 3pm to 7pm but as he was late he didn't manage to finish the job on time. still one fence to fit and some mesh to fix all over the wall. hehe left my garden promising to finish the job the day after. I paid him almost the full amount, but he never showed up any more. he doesn't pick up my calls and does not reply to texts. I trusted him and didn't take surname or number plate, the only things I have are his name and his mobile number
fences
- 27-Aug-15 @ 9:07 AM