Learning the Basics Before Employing a Tradesman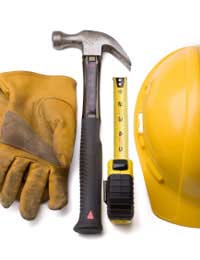 Most people will automatically consider hiring a tradesman for a large DIY job at home. Hiring a tradesman should make the project easier, faster and of a higher quality than most non-trades people could ever hope for.
The downside to hiring a tradesman is that it is often more costly than doing the work yourself, however if you learn the basics of the job you need done, you'll be able to ensure that your tradesman is charging you for the correct procedures. Knowing a little about the range and processes involved in your project means that you can be educated when you speak to your tradesman and be aware of the costs involved.
Questions To Investigate Before Committing To A Tradesman
There are a number of important points you should investigate beforehand when it comes to DIY. Knowing the answers to these questions means that you can't be conned by your tradesman and you will be able to negotiate with him on an educated basis. Basic DIY questions you should investigate include:
How much materials are likely to cost? – Investigate this yourself at your local DIY shop. Your builder should be able to get trade rate, so this should be even less than what you'd pay for it.
What is the time frame for the job? – Speak to people who have already carried out similar work and ask what time frame is expected for the job. Your tradesman is a professional and should be able to complete the work in a timely manner.
Are there possible complications with the project? – Knowing what complications could lead to delays or issues means that you're better equipped to deal with your tradesman. If you make it known to him that you're aware of any complications, they can't try and trick you into allowing for lengthy extensions in the contract.
Knowing Basic DIY At Home
There are a variety of DIY procedures at home that every home owner should be aware of. The reason for this is not only so you're able to personally carry out smaller tasks, but also so that if you need a larger job done, you know the processes that make up that job. This way your tradesman can't con you and overcharge you and you'll also be able to keep track of the stages of the job. Some important basic DIY processes to educate yourself on are:
Extensions – Read about all the stages involved in a home extension so that you're able to effectively communicate with your builder. Know the prices, time frame, materials, labour costs and more to fully understand the quote you're given.
Roof Work – Roof work is a common area for people to be conned. Familiarise yourself with the processes involved in repairing or redoing roofing work and let your roofer know that you're aware of it.
Electrical Tasks – Never carry out electrical tasks if they're out with your comfort zone, always seek a qualified electrician. However, knowing the basics about wiring and the costs involved mean you can be sure that your electrician isn't trying to scam you for extra tasks that he doesn't even need to carry out.
Decorating – Everyone knows how to paint or carry out basic decorating, but learning more about the costs involved in paint, wallpapering and other decorating means that you can speak to your decorator on the same level and show that you can't be scammed for extra costs.
Learning The Basics Saves You Money
The most important point about learning the basics of DIY is that it will save you money long term. The small tasks you can carry out yourself and the larger tasks you can have a full understanding of all the stages involved and thus the costs. Your tradesman may of course up their labour costs also, but be strong and inform them that you know a lot of basic DIY and are able to cost the work yourself. They will often listen to you and consider your knowledge before quoting, so make sure that they know you're not completely clueless on the project.
You might also like...