Local Authorities Stand Against Rogue Traders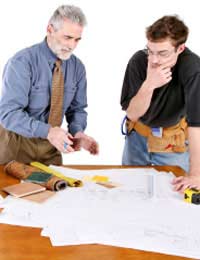 The degree to which rogue traders have become a problem in the UK has advanced so greatly that not only are the government dealing with it on a national level, but they're also advising local government authorities on how to deal with it at a community level. Rogue traders cost the UK millions of pounds per year in various costs and consumers are becoming increasingly distressed and frustrated by the apparent ease with which these traders operate. Many feel that dealing with it on a national level isn't the most comprehensive approach and therefore local authorities are taking it into their own hands to deal with these rogue traders.
National Government Schemes Against Rogue Traders
The introduction of the national TrustMark Scheme helps homeowners feel safer when it comes to finding reputable tradesmen and also provides advice on what to do should they feel they've fallen prey to a rogue trader. Along with this scheme, the government have announced this year that they're planning to spend over 7.5 million in the next three years to help combat scam artists.
Specialist Trading Standards officers will be involved in working alongside the police in halting rogue traders. They will be operating across different borders and won't be contained to their own local authority areas - this means they can target rogue traders who drift between areas to avoid detection. This national approach follows on from a very successful pilot programme and combined with local authority approaches, should be a more conclusive step towards ridding the UK of unwanted rogue traders.
Local Authorities and Rogue Traders
Each local authority has a different approach to how they deal with the inherent problem of rogue traders in their community. East Sussex County Council's Trading Standards Service has been working in conjunction with their 'Buy With Confidence' scheme and is now stepping up their advertising to warn prospective consumers about the dangers of dealing with rogue traders. An upcoming advertising campaign that will feature the 'beat the cowboys' message will soon be appearing on local radio advertising and on local buses. The council are hoping that not only will customers become more aware of choosing a reputable tradesman, but also that local tradesmen will sign up for their register which will verify them as being reputable. Many local councils are utilising a similar approach, with places like Durham County Council Trading Standards working alongside the Community Safety Partnerships to provide a registered traders scheme that is available for local reliable builders to join. This means that they are approved as reputable by their local council, but also it means that potential customers can access this list and choose with confidence.
Further Local Authority Schemes Against Rogue Traders
Many Trading Standards in local authorities are setting up similar ventures as their aim is ultimately to rid the community of dodgy scam artists who aim to make a quick buck out of unsuspecting customers. Some are setting up neighbourhood watch schemes so that there is always someone looking out for rogue traders even when a Trading Standards officer can't be present. Some local authorities are even declaring areas a 'No Cold Call Zone', which means that police work in conjunction with residents to watch out for bogus callers and rogue traders. Enfield Council's Trading Standards is one such area and although many are testing these as pilot schemes, there's the intent to take it further and make it available across their areas. Ashford Borough Council is working with Kent Trading Standards to attempt to abolish rogue traders from their community through the Community Safety Unit. It is local schemes like these that make many residents feel safer and provide them with an easy to access point of contact should any queries arise.
Your Local Authority and Rogue Traders
If you feel that your local authority isn't doing enough to prevent residents in your area from scams by rogue tradesmen, contact them and ask them how to proceed with setting up some kind of support system for residents. If enough people demand action, most local authorities will respond. Always contact Trading Standards also to see what approach they're taking to eliminate rogue traders from your area and if all else fails, contact a national scheme such as TrustMark to see what advice they can provide you with.
You might also like...
There's a gas fitter from airdrie by the name of stuart clelland.His standard of work is deplorable, Gas Safe have inspected work done by him and switched off boilers as being dangerous.He has taken money from us and from others and not supplied the goods.
Cohenfan
- 20-Feb-23 @ 11:02 PM
I lost my dad this year and been looking after my mum with dementia .hired A W SMITH known as perry saxmundham .he was with us for 5 months doing different things brilliant to start with then started sneaking his friends around when i was out walking dog or i would find him up the road in some else garden ,smoked alot .kept bringinghis girlfriend around .did some rendering of garden wall it kept falling of and has applying and smoothing it was coming of .this cost £500.w
I lost my dad this year and been looking after my mum with dementia .hired A W SMITH known as perry saxmundham .he was with us for 5 months doing different things brilliant to start with then started sneaking his friends around when i was out walking dog or i would find him up the road in some else garden ,smoked alot .kept girlfriend around .did some rendering of garden wall it kept falling of and has applying and smoothing it was coming of .this cost £500.w
I engaged Pescos Ltd to attend a rat infestation in a rented house at a cost of £300 paid in advance on the basis that they would attend that day and subsequently with follow up. The operative laid 3 dishes of "poison" and told the tenant she could not access the W.C./bathroom because "rats are coming up the toilet" . The tenant, a vulnerable lady in poor health was induced to pay a further £420 to the company to have a non return flap fitted to the sewer system to effect a complete cure and until it was fitted she was not to use the bathroom. The flap was eventually fitted to a neighbours house on a system not connected to the tenants bathroom. She was then assured that the bathroom was safe to use. total cost £720.00
Portus
- 28-Aug-20 @ 7:13 AM
Around this time 4yrs ago I embarked on a renovation of a bungalow from my mother. I did all of the checks as advised. Interviewed numerous builders and six months later thought I'd pick the one that understood the importance of the work and time schedule. Well I couldn't be more disappointed in what happened. The unprofessionalism of the team was astonishing. A carpenter of 30plus years unable to hang doors correctly , straight cutting skirting board, the list is endless. Well it's finally come to an end with the "company" going bankrupt because he couldn't continue to hide from his responsibility. Just to warn friends, enemy and anyone thinking of employing someone to complete home improvements in the future. DO NOT USE !!! Simon Andrew Burgess, Simon Burgess, Burgess Renovations !!! Peterborough and all over the country be warned!!!
Warriors
- 29-Apr-20 @ 6:44 AM
Found a landscaper on Facebook through his building company. Agreed a price, payment plan and time of completion. Paid him 2850 pounds, he didn't come after the second day, a week later gave him more money for materials which never came. It has been seven months and I have had to pay someone else to do the work. He's been using different excuses and now the lockdown is his excuse. I have told Hume the work is complete and I would like my money back and he has not replied. I have all our conversations on messenger. How do I get my money back?
Rani
- 22-Apr-20 @ 9:11 PM
I called a free number 08002118420 to find the local plumber service to repair a small toilets leaks.The plumbers they sent acted like criminals they did not repair the leaks but made them worse. We now have to turn off Water supply. The criminal plumber still demand more than 500 cash for making the damage. I called the Kent Police, but they said it's civil matters.When I call back to the 0800 number. They don't care and told me they cannot take a complaint.
I would like to place a complaint about the following organisation that there are Skilled Handyman Bracton House 11 Hill Waye Gerrards Cross Bucks SL9 8BJ I was looking for a qualified plumber on the website of the above company said that they have registered qualified plumbers.I call the above number booked an appointment. Guy on the phone said no fix no payment and he said they had a qualified registered plumber.. I took a day off. I was home waiting the guy cancel last moment so I lost one day of work unpaid. .Someone attends a visit to my house a day late (As a result I got 2 days out of work). That guy was not a plumber had no idea for toilets AND NOT TEHCNICAL BACKROUND.He was a cowboy builder,So he did not fix my toilet and ask me to buy a new one. Then my friend gave me a telephone number of a real plumber register and he fixed the toilet in 5 minutes. Prove of the real plumber on request. . SO I PAY THE REAL PLUMBER The guy from Skilled Handyman was very aggressive. He forces me to sign an empty paper. He said head office force him to ask people to sign empty paper. As a result I reported to the police. I have a criminal record number on request. As I result of skilled Handyman I refuse compensation of £500.00 for make me stay out of work for 2 days also for my water bill because came very high because of Skilled Handyman arrive one day late. Also he destroyed the floor in the toilet and the light (see pictures) Services for Skilled Handyman very disappointed.Traders such as plumbers, s have an obligation to carry out work "with reasonable care and skill". The Supply of Goods and Services Act states: "Where the supplier is acting in the course of a business there is an implied term that the supplier will carry out the service with reasonable care and skill." If they fail, you don't have to pay. Never apologise to me or pay me the compensation.
VICTIM
- 15-Apr-16 @ 5:59 PM