What to Look for When Searching for a Tradesman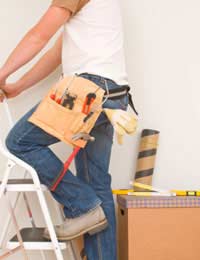 When it comes to looking for a good tradesman, there are numerous avenues you can take. You can ask other people for advice, contact governing bodies, use online resources or simply take your chances with someone that feels 'right'. Whatever option you choose, you should always have a failsafe set of standards that you follow when interviewing for the correct tradesman. Always consider the process of finding a good tradesman an interview, as ultimately you're checking to see who you believe is the best fit for the job at hand.
First Impressions
When it comes to looking for the right tradesman, first impressions go a long way. If you find their number through an advert, always check to see if they have a landline number and a local business address. This means that more than likely you're dealing with someone who classes this as their sole or main business and they're more likely to be an established firm. If their advert highlights the fact they're part of a reputable trade association, then this also should give you some peace of mind about their reliability.
When you first meet your prospective tradesman, if they drive a branded van that advertises their own company, this is also a positive sign. It shows they're a proper business that is happy to advertise their services. If they don't have such a vehicle, don't panic, many simply don't, but it is nice to see you're dealing with an established firm when they do. If you receive a quote from your tradesmen, check to see if it's on headed notepaper and whether it tells you if they're registered for VAT. When you first meet, don't be afraid to ask for references and names of previous clients.
Many reputable tradesmen will carry that information with them and may even have photographs of previous work carried out. They shouldn't be upset to provide you with this if they're above board, so watch for any signs of agitation or being uncomfortable before you agree to sign anything. These little tips can be the difference between dealing with a rogue trader and a reputable tradesman.
Signs to Watch Out For
Most reliable tradesmen won't pressure you into a sale or a deal there and then. Some may offer you a discount for signing at immediately, but if they do, they're probably not the kind of firm you necessarily want to go with anyway. There's no reason for any kind of pressure when it comes to finding a tradesman. A good tradesman will have a busy schedule anyway, so won't feel the need to fill in slots with extra jobs.
If a tradesman is asking for a large advance payment, this is another warning sign that he may not be a good tradesman at all. You should always look into the payment schedule that your tradesman is offering you and ensure that you feel happy with it. Ideally, they should carry out the work before any money changes hand, or alternatively, should be given progress payments. There should also be no reason at all to demand cash payments. This only fuels the chances of you encountering a rogue trader, so don't be keen to part with cash. Most importantly, don't sign anything you're unsure of. Always make sure you read every detail of the contract and fully accept all terms and conditions before signing.
Finding the Elusive Good Tradesman
When you do believe that you've found a good, reputable tradesman, you should be very clear about what you want and make sure that you have considered all the different estimates for the job before signing. Try to stick to your original plans and don't change course in the middle of a job. This can prove to be expensive and will end up costing you more in time and money. Always check their insurance is up to date too and get a warranty for the work that has been carried out. If you adhere to all of these, your chances of having a successful relationship with your tradesman.
You might also like...