What to do if a Tradesman's Work is Behind Schedule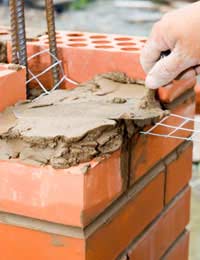 When it comes to working with tradesmen, most people tend to take estimates of completion dates with a pinch of salt. Even when you're working to a schedule, it's almost a given that at some point there will be a delay, a distraction, a complication or some other issue that forces the job to be rescheduled or pushed back. The most important thing as a consumer, is that you ultimately get a satisfactory result from your tradesman and there are a variety of ways of approaching this.
Before You Begin Any Work on Your Home
Before you decide on any one tradesman to carry out work on your home, you should always be 100% certain that you're fully aware of the schedule that he or she intends to follow. If you're having a small job carried out, then get a start date and a finishing date from them before signing the contract. If possible, have it written into the contract too. A good tradesman is in high demand, so there may be times when he won't be able to start for a few weeks. Make sure you're aware of this at the beginning and base who you choose around this. If you're going for a long term schedule for a larger job, get progress dates written into the contract. This gives you some kind of assurance should it go wrong in the future and you can easily oversee any progress or delays simply by checking them against the contract. If you choose a tradesman who isn't local, expect them to include their travelling time into the quote. In most cases, it's better to go local as then they're always in the vicinity and shouldn't have any issues with getting to you on time.
During the Work Being Carried Out
If you're in the middle of a long job and you're starting to notice it slip behind schedule, the first thing you should do is politely bring it up with your tradesman. The relationship between a tradesman and customer is very delicate and you have to ensure that you're firm, but polite and friendly. The last thing you want is to alienate the tradesman and then you're left with a job half finished and no tradesmen in sight. If you've agreed to a schedule, bring this up and ask how close to it they are and what the extra time added on to the end means for you. The relationship works both ways however and if you're making progress payments, then you should always pay these on time and ensure that they're for the right amount and being paid in the agreed form. If your tradesman doesn't give you a satisfactory answer as to why the work is falling off schedule, demand politely that he at least let you know the repercussions of this. If you can afford a site manager, you should employ one as they will deal with any situations that occur with delays and get generally get a logical answer from the tradesman.
When it All Goes Wrong
If you get to the point where you realise that everything is going wrong and you're so far off schedule that you have no idea when the work will be completed, it's time to take action. Your initial point of contact again should be the tradesman, but if you feel you're getting no resolve here, then you should contact his or her governing body or association. They will be able to advise you of the next steps here and may pass you onto an official Government agency like TrustMark. They can advise the legal side to you as a consumer and can also mediate with the tradesman to see what the actual problem with delays is. Use this only as a last resort, you want the work finished and keeping the tradesman on side may be the only way of having that happen. Ideally, you won't get to that stage, but if you do, don't panic and consider all your options. Most reputable tradesmen have other jobs to get to, so are probably equally as keen to have your job completed on time as you are. Keep this in mind during your interactions with the tradesman should you need to ask them about delays and hopefully you can amicably sort something out.
You might also like...
Hired Alex via Checkatrade to repair cracks on outside wall, to paint the wall and repair &varnish wooden window sills and frames. Starting date delayed, using scaffolders as excuse, then two men worked short5 hour days x4 and left. Next day I saw area where render showed through the paint & varnish on window pane. Alex promisedto sort it, butnever did. Later, whenscaffolding was removed & it became obviousthat all newly rendered areas showed through andthat some areas had not been painted at all. Shoddy work also on wooden window frames, but with some varnish and silicone on the panes. Old render had been left where it fell, unlidded paint pot filledwith paint and water. He also ripped a cover with electric wiringunderneath off the wall, and messed with white paint on brown garage wood surrounds and with paint flaking off above it. Sent some photos and printed messages I had with Alex to Checkatrade, No real help from them, Alex never responded to me, nor them but is still on theirlist, which is rather worrying. This shambles cost us £2825- and has left us with huge further expenses.So disappointing, frustrating and unfair. Got on fine with Alex but he turned out to be dishonest , unreliable and no better than a thief.Yous Einar
Einar
- 5-Jan-21 @ 6:54 PM
Dear madam, sir looking for help.the job has not been competer d by tradesmen and I now he is not contactable and h ecollected all money. Howcan I find him, if he is not relying to my calls. I only remember his van reg number and name
marina
- 12-Oct-20 @ 3:17 PM
@Ussie - report him to Trading Standards, especially if it has taken so long.
HNN
- 11-Jun-18 @ 10:05 AM