Top Tradesman Scams and How to Avoid Them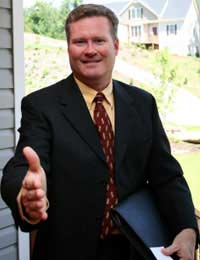 In a perfect world there would be nobody out to make a fast buck at the expense of others, but sadly this isn't normally the way. Rogue traders and cowboy builders are part of life and unfortunately for every 100 reputable tradesmen out there, there is likely to be one who is not professional, unreliable and trying to rip you off. The real trick is to educate yourself about which scams there are and how to avoid them - only then can you truly protect yourself from potentially losing a large amount of money and suffering a great deal of stress.
Itinerant Tradesmen and Their Scams
Some of the most common scams arise from itinerant traders who will show up at someone's door posing as professional handymen. Some of them may well believe they genuinely are good at their job, but generally they will know they're out to make money and aren't that concerned about the professionalism of the work they're carrying out.
Most of the time, door-to-door scammers will try to appear overly friendly and persuasive. They'll mix this in with a handy dose of patience, where they look like they're giving you all the time in the world to think about their offer, which is normally a reduced price job if you sign there and then. Scammers of this sort have practiced their trade for many years and often become so adept at it, they may even believe themselves that they're offering you a good deal. The elderly are one social group who find themselves preyed on by this kind of rogue trader often and ideally women at home alone are another group who can be subjected to their pressure tactics and intimidation.
They will normally suggest that they were just carrying out some work in the local area and noticed that your roof/garden/brickwork etc needed to be fixed. They'll then tell you how much it would cost to call someone out, but because they're here they'll do it for you at a reduced price. Remember that a low price doesn't ensure quality work and sometimes it's better to pay a little extra if you can to ensure you get a good job carried out. When it comes to cash, don't fall for the scam that them offering it cheap to you means you have to pay up before the work is completed. Never hand over any money until work has been done and even then, make sure you've fully inspected it before agreeing to pay. These special 'one day only' offers are usually there to put the pressure on you to agree to having them work for you. The old line 'my other customer cancelled so I have to get rid of this stuff' should never be believed - a good tradesman will always have another job lined up.
Door-to-Door Scams to Look Out For
As mentioned above, door-to-door scammers are often the worst kind as they'll pressure you into making a decision there and then and this leads to all sorts of problems later on. Most door-to-door scams will involve something visible from street level, so driveways, windows, gardens, gutter repairs, paintwork - all are perfect entry points for a rogue tradesman to try and sell you his shoddy work. The other issue with door-to-door traders is that the scam they're trying to sell you probably won't be covered by any kind of guarantee. Most of these traders will take the money in hand and never put it through a business, so there's little consumer support for you if you decide to purchase this way. You can actually get signs now from most local councils that you can place on your door to let rogue traders or solicitors know that you're not interested in their business. This doesn't always stop them knocking on your door, but it can be a deterrent for some if they think they're going to have to pull out the hard sell to get you interested.
Avoiding Tradesman Scams
Get recommendations for local tradesmen
Word of mouth is your friend - speak to people for advice on tradesmen they've used
Get as many quotes as possible, at least three normally
Never use someone who doesn't have an office address and a landline phone number
Check if they're members of a trade association such as TrustMark
Never pay any money upfront if you can help it
Ask to see the contract and any insurance they may have
Always get a completion date if possible
You might also like...
@C - If you think the trader is not above board then you should trust your judgement. It may work in your favour if the job is done and completed to your satisfaction. If you are happy to take that risk then it's up to you........but I'd be wary still.
A tradesman has advertised locally for several years to supply and fit internal doors. His prices are good but he remains anonymous using only an 0800 phone and when requested gives an address which turns out to be a mail box: the company name is not known at Companies House which is unsurprising for a sole trader. He only requires payment after satisfactory fitting and by cheque or cash: no deposit of any type. I am wary of his motive for anonymity but see no risk to me.