Should I Send Money in Response to a Work From Home Ad?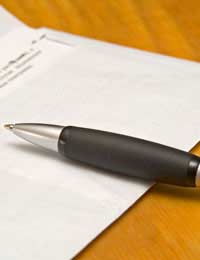 "I'm looking for ways to earn a bit of extra money, and I saw a notice in a post office window, saying that I could earn extra money by working from home. It said that I would be filling envelopes for a business, and that I'd get paid £50 per 100 envelopes I filled.
"I'm really tempted to give this a try, although they want £20 up front to send me the starter pack. If I can make that money back by just filling a few envelopes, it's a great investment, isn't it? But I'm worried there might be a catch."
Advice
There is a catch – a very big catch. It's a complete scam. The scam relies on people being desperate enough to send money just to work for them, and is just this side of legal, because if you read the small print, you get exactly what you are promised.
The lure of having your own business, and being your own boss, is tempting. In difficult economic times, this type of scam home working scheme is likely to attract even more people. It sounds perfect – work from home, no travelling, do it in your own time, no overheads or sales involved. The bottom line is that you should never have to pay somebody for the opportunity to work for them. If you join a well known 'party plan' business, yes, you would expect to have to pay for stock, but to pay to register on a home working scheme, or just for more information, should immediately start ringing warning bells.
What Happens When You Send Money?
Home working scams seem to be very simple – you get paid for what they describe as 'stuffing envelopes', but when you reply to the advert you'll be asked to send some money for supplies, or to join the scheme. When this arrives, you'll be told to put an advert in another shop window so that people respond to you.
You will then be expected to forward their details to the promoter, and this is where the 'stuffing envelopes' comes in. You won't get 100 replies. You'll never make your £20 back, and the only person who will get rich quick is the person who started the scam in the first place.
Are There Other Home working Scams to Look Out For?
The attraction of a lot of home working scams is that they tell you 'no experience is needed.'
In addition to stuffing envelopes, some schemes are based on assembling small items, like baby toys, or simple textiles. The catch is that either you send them back to the promoter (after having paid money for the materials) and they return them saying that you haven't made them properly, or you are expected to sell them yourself.
Some promoters will draw you in by telling you that they will buy back any items you can't sell, so long as they deem your workmanship to be good enough. This gives them carte blanche to reject everything you send because the work you've done will never come up to their standards. Genuine companies will never ask you to pay anything up front to join them.
You might also like...