I Think I've Won a Free Holiday: Is it Valid?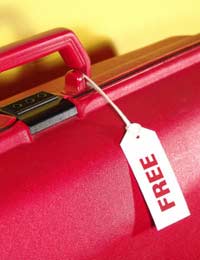 "I had a telephone call from a company who told me that I'd won a free holiday, and that all I have to do to claim the holiday is to go to a formal prize presentation in a hotel. I thought it sounded dodgy and asked them if it was timeshare, but the girl said that they weren't time share and that there was no obligation, I just had to attend the presentation and I'd have my holiday.
I'm not convinced. What should I do?"
Advice
Unless you have a burning desire to be sat in a plush hotel room and talked to about the advantages of holiday ownership, a holiday club, or similar, I would forego the 'free' holiday and just look up a cheap deal on the Internet. This is a scam - a cleverly worded one, but a scam all the same. It's not illegal, but it is sneaky.
You're not under any obligation to sign up for anything at the presentation – but there is likely to be some pressure. Sometimes the presentations go on for so long that people have been known to sign contracts just so that they can leave! And naturally the holiday will be to one of their resorts, and you may find that you have to pay for your own flights there and back. Worse still, you could find yourself being pestered by people trying to sell you a holiday club membership while you're there.
Common ploys to get you to buy one of the holiday ownerships are saying that there's a special offer at the moment, or plying you with free alcohol to entice you into signing something you may later regret. Stick to soft drinks!
The Timeshare Act
Holiday ownership and club schemes aren't technically timeshare agreements, so you can't rely on the Timeshare Act for any protection if you do sign up to something and then decide it's not for you.
Holiday ownership differs from time share, because you're not actually buying a share in a property. What you are usually signing up for (but the agreements and schemes vary) is the right to take a holiday in any one of the properties owned by the company. It sounds good – but bear in mind that these contracts can be hard to extricate yourself from, and that in reality you may find it hard to get a holiday at a popular resort or at peak times.
Are all Holiday Schemes a Scam?
No, the idea of holiday ownerships and clubs is a good one, and there are certainly reputable agencies that will do their best to provide what they offer. It's just that because the 'free holiday' scam has been around for a while, people think that all holiday ownership or club schemes are inherently dodgy.
Bear in mind that if the company is reputable, and their products are good, they shouldn't need to resort to underhand sales tactics to sell them.
If you like the sound of a holiday ownership, don't be tempted into the free presentation scam, but do some serious research before you take the leap. Look out for a company which:
Explains the contract, lets you read it before you sign it, and gives you a cooling off period.
Explains your cancellation rights.
Offers you a contract that is easy to understand.
You might also like...