Online Resources to Help Avoid Rogue Traders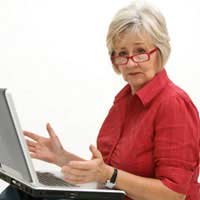 If you're considering getting a tradesman in to carry out a job for you, naturally most people are slightly apprehensive at the thought. With continual press outlining rogue traders and how many people are affected by them, it's understandable that many people feel concerned at whether they'll be able to choose a reputable and reliable tradesman. As with any contract, it's important that before signing with a workman, you get as many quotes as you can and of course ask a variety of questions . One of the best places to look for help on what to ask and how to avoid potential rogue traders is online, where you will find numerous websites covering ways of avoiding rogue traders and substandard tradesmen.
User Forums and Rogue Traders
One of the most valuable places to find information on possible tradesmen and ways of avoiding rogue traders is to read other peoples views and experiences. Many online forums exist where you can read messages, share messages and ideas with others and ask for advice about specific tradesmen or situations. People power being harnessed in this way can be very powerful indeed, as often experience is the best tool to equip yourself with when it comes to tradesmen. Forums let individuals openly express themselves without concern for any recourse from the tradesman, so often they'll be more open here than elsewhere. You can find out essential information about rogue traders in your area and pick up tips on who to avoid or who to seek out. The more information you can get on a tradesman before you employ him or her, the more satisfactory your job should be. The easiest way to find a forum is to simply search for it in Google and then look around for people in your area. If you have a specific question or concern, ask in the forum and hopefully someone will be able to help you out.
Official Bodies and Online Resources
Many governing bodies of tradesmen will now have their own website that outlines the best traders in their areas and those that are considered reputable. By agreeing to sign up to both national and local schemes and associations, many tradesmen cover themselves from being considered a rogue trader and are given the approval of the governing body. This of course makes it easy for someone to find them online. Always look for their official business number and make sure they have a business address and phone number too. Little tips like this can be all that separates a reliable trader from a rogue trader and this will save you stress and money in the long term. Below are a list of websites that will provide you with valuable online resources in avoiding rogue traders and finding reputable ones instead.
TrustMark
SNIPEF
IPHE
FMB
NHBC
Recommended Tradesman
Rated People
Checkatrade
The Good Tradesman
Quotatis
Tradestamp
UK Trade Street
Using Online Resources to Avoid Rogue Traders
The benefits of using online resources to avoid rogue traders are numerous. Checking a reputation of a tradesman on a site such as Checkatrade means that you're getting word of mouth testimonials for that individual. Not only that, but you can search by location, occupation, trade and more, giving you the ultimate flexibility in who you choose for your job. Companies that are set up online specifically to help consumers find the right tradesman are often happy to share information on individual tradesmen and will only partner or recommend those that are fully licensed and accredited. It can prove to be invaluable information that you receive from using these sites and they're worth checking out before you enter into a contract with anyone.
You might also like...
I boughtan overnight bag from eBay shop in April for overnight stay in London.Used it for the trip this weekend & handle snapped off as we got off the train in London!! Then the extension handle to wheel it kept turning it side to side stuffing the underside of the bag so all the coating/ material came off before we had even reached the hotel. Msg the sellers who just keeps saying not interested after 30days. So how can they get away with selling shoddy goods??
Laceycollar
- 29-May-19 @ 9:26 PM
Do not use a company called Timber Builds Ltd UK in Forres, formerly p&a pods, p&a construction group ltd, P&A building group ltd. They are conmen. They take deposits off people, and then go into liquidation. Then a new company will come in, take over, and threaten you. They are the same people. Paul Fowler, Victoria Louise Murphy, Graham Russell Silverson. Avoid at all costs.
John
- 8-Sep-18 @ 3:03 PM
Hi there, I am appealing to anyway who has been scammed by a company called UKWEBDESIGNSHOP in Dudley West Midlands, they are a website design and marketing company. I won't give out details on here about the nature of the scam as you will know what's happened to you.Please get in touch with the fraud action line at your earliest convienance the telephone number is 0300 123 20 40 alternatively email them on actionfraud.police.uk.Please only contact them if you have been scammed.
SD123
- 24-Feb-17 @ 7:33 AM
Viagogo. = RIP OFF MERCHANTS I bought 4 tickets for the Ireland New Zealand gamelast Saturday, I bought them in May so 6months in advance as I wanted lower tier seats, all confirmed, but less than 2 weeks before the game I received Upper tier tickets that are the cheapest seats. I've tried everything to get in touch with these con artists, and it is impossible , 7 different phone numbers all to automated answer and cut you off when you put in your number. Emails all come back as not known, posted a recorded letter to a London office and it came back as return to sender, I sent a letter to their so called head office in Switzerland, and it was accepted a week ago , still no reply, I did get an email from them 3 hours before the game saying send copies of the tickets to prove " the sellers sent me the wrong ones" did all that and it goes to an email server that is under maintenance so try later, 4 times I've tried and for 3 days but still the same. The Skerries Rugby Club they came from I've contacted and they weren't much better basically saying not our problem talk to Viagogo!!! These people need stopping as I've seen loads of other people some of which didn't even get tickets??? Any body able to help or advise please?
Lil
- 22-Nov-16 @ 7:01 PM
Just had a painter in and has well messed up with the job and iv paid him most of the money. Any advice were to go from here with getting back my money
billy
- 20-Jul-15 @ 7:37 AM
Zoommove letting agents Harrow. What a total rip off. The agent John Richardson or Caplan (he goes by different names for obvious scam reasons) told me a pack of lies about tenants who he place in my house. He also told them a pack of lies and charged them a fee to place them. He is a real deadbeat and should be prosecuted for the misery he causes landlords and tenants. Watch out, and don't trust him. He pretends he is acting on behalf of the landlord to promise lots of furniture and improvements which is not true, he just places tenants and disappears with your money! What a com artist.
So much for validation, I have a file full of complaints inc photos and descriptions about trader Darren Cummins (DK Aerials) these complaints go back over many years, he has ccj's and is defrauding the inland revenue, he has peeled off the livery from his van, stolen the id of other businesses via website advertising, advertises on the internet under different business names, does awful bodge jobs and scarpers never to return. and he is RDI registered!
exbiker59
- 9-Jun-11 @ 1:30 PM